So...How Will This Help Me Pass?
Great question! You're probably wondering if this is anything like the free FE review class from your university that barely covers anything you really need to know.
Nope – it's not that.
The Ultimate Civil FE Review Course was built from the ground up by practicing engineering brothers (Mark Oakeson, PE, SE and Isaac Oakeson, PE) with you in mind! You're getting information at the ground-level, all built around the NCEES specifications.
For starters, you'll receive lectures that cut out the garbage and simply get to what you need to know. Having structure is important, and our course gives you plenty of it. We also know that managing your time is key with school, family, friends, and work all vying for your time. So, we want to give you something that will give you the best results in the shortest amount of time.
Look, we know how hard the civil FE is because we've been in your shoes and now we want to help you! So whether this is your first or your fifth time taking this exam, we promise this course can help you.
This all-in-one solution will help you prepare to pass more than any college course could. Learn from our experience and get this massive stepping stone out of your way on your journey to becoming a professional civil engineer.
Now, let's check out the deets!
How Would You Feel If You Passed The FE?
Imagine what it will feel like to reach your goal of passing the civil FE exam! Just think of the massive weight that will be lifted off of your shoulders as you reach this HUGE milestone in your civil engineering journey!
Are you still in the grind of school, but have this FE exam to deal with in order to graduate? Can you imagine not having to worry about this exam while you finish school? Can you imagine having this DONE so you can receive your engineering diploma?
Or have you been out of school for so long that you can't remember integration and differentials? Can you imagine being able to take the FE exam with confidence – knowing how to solve each problem and finally getting the passing score you've wanted?
Maybe you need to pass the FE so that you can finally register for the PE exam and become a professional engineer – a massive boost to your career!
​Let's turn these dreams into a reality. It doesn't matter if it's for graduation or to eventually register for the PE exam – the FE exam is the very first step for YOU to become a professional civil engineer.
And now you're going to have access to the best possible tools to get you there.
Contents of The Ultimate Civil FE Review Course
Course Lectures
The course includes 14 on-demand modules that follow the exact specifications from the NCEES testing agency (you know, the guys who write the exam). This encompasses 14 different bodies of knowledge that you are required to know. No more questioning what they're going to throw at you. We will walk you through everything you need to know in the shortest amount of time. Each lecture has downloadable slides you can mark up and follow along if you would like.
Module 0:Introduction
Module 1:Mathematics and Statistics
Module 2:Ethics & Professional Practice
Module 3:Engineering Economics
Module 4:Statics
Module 5:Dynamics
Module 6:Mechanics of Materials
Module 7:Materials
Module 8:Fluid Mechanics
Module 9:Surveying
Module 10:Water Resources and Environmental Engineering
Module 11:Structural Engineering
Module 12:Geotechnical Engineering
Module 13:Transportation Engineering
Module 14:Construction Engineering
Practice Problems
Right now, we have over 300+ video practice problems (and growing) in our video problem library. Do you want to see how to solve problems the way we do? No problem. Need us to walk you through the problem solving process step-by-step? You got it. What about references out of the NCEES Handbook? Yep.
Practice problems are the key to success. With over 300+ problems on-board and more being added every week, you'll have no problem getting practice time in. You'll also be able to download every problem and lecture so you can solve them on your own before jumping into the video!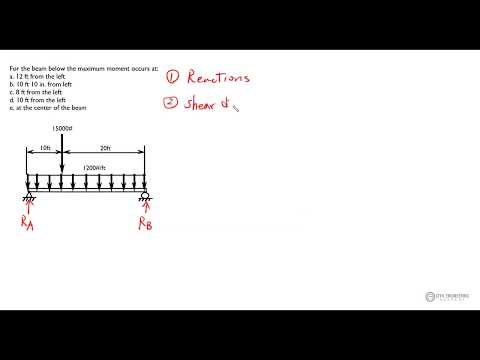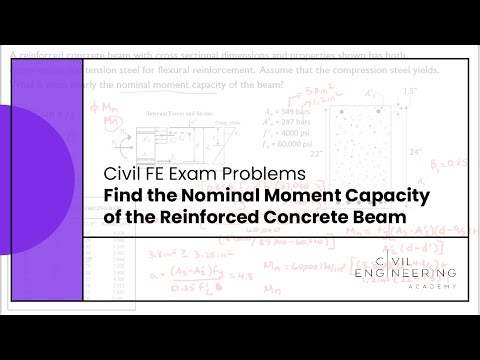 References Made Easy
Unless you've been living under a rock, you know that the FE exam is a closed book exam. ​
The only reference at your disposal during exam day is the NCEES FE Reference Handbook – and that's exactly why we use it heavily in our lectures and problems.
Everything we cover references equations and graphs out of that book.
You'll be so prepared that you'll be able to browse through the reference handbook blindfolded with one arm tied behind your back (okay, you might not be able to do that, but you'll be very proficient at using the book). This course will force you to get comfortable with the FE handbook so that you can find equations and graphs right when you need them on exam day!
Getting comfortable with this reference material is just as important as practicing problems.
Accessible Anywhere
Because this is an on-demand course, you get it anytime you want it. Studying at school? No problem. Have a few minutes at work to bust out a few FE problems? Booyah. Sitting on that train ride and need to catch up on a lecture? Yes indeed.
All you need is an internet connection and you can view every lecture and video-practice problem we've made on any device. Think of it as a food truck for the FE. This baby travels around and gives you delicious FE material wherever you find yourself ready to take a bite.
Support
Gone are the days of going at it alone or with a study group that barely shows up in college. We are here for you! As part of the course you gain access to our private Facebook community where you can specifically ask FE questions, post problems, commiserate, celebrate, and basically post anything and everything to do with the civil engineering FE exam.
Your instructors and various team members will be there, too, to answer your questions as soon as possible.
Or if you are the kind that likes to email, we do that too. Just shoot us an email at support@civilengineeringacademy.com and we will get right on it. We are here to help!
With this course you'll get prompt responses and support that is second to none!
Up to One Full Year of Access
You read that right. Buy this course once and you get up to a full year of membership access (our recommendation). No need to worry about renewing the course if you fail. With a year membership you can come back as many times as you need.
Don't feel like taking the exam this month or quarter? Wait and come back. With a year of access you can put your mind at ease on the timing of your FE exam, knowing you have a secret weapon ready to launch at your disposal.
We also offer month to month options as well as a 6 month option. Choose what works for you!
Certificate of Completion
Yes! Finish the course and you'll receive your very own certificate of completion!
Use it for reimbursement of the course at work (if your work is cool like that), or keep it at your work desk as a memento of your hard work and dedication. Either way, it's quite an accomplishment and one we'll applaud you on for achieving. It might not be as cool as receiving a passing score on the FE, or a diploma, but we think it's pretty close.
Practical Exams
You'll also receive immediate access to two full FE exams! The Ultimate Civil FE Practice Exam Volume 1 and 2! These bad boys come with a full 110-questions with detailed solutions modeled after the real FE exam. Test your skills before you take the real deal to ensure you pass with flying colors!
14 Core Course Modules Covering the NCEES Specifications
Over 300+ Video Practice Problems & Growing
Two 110 Question Practice Exams – The Ultimate Civil FE Practice Exam Vol 1 and 2
A Certificate of Completion when Finished!
One Month Access
Access to all modules to guide you
Access to our Private Facebook Forum with Amazing Support
One full month of access to the course and materials
Two complete 110 question practice exams
Live problem solving workshops and recordings
A complete CBT exam simulator
Recommended
6 Month Access
Access to all modules to guide you
Access to our Private Facebook Forum with Amazing Support
Six months of access to the course and materials
Two complete 110 question practice exams
Live problem solving workshops and recordings
A complete CBT exam simulator
Yearly Access
Access to all modules to guide you
Access to our Private Facebook Forum with Amazing Support
A full year of access to the course and materials
Two complete 110 question practice exams
Live problem solving workshops and recordings
A complete CBT exam simulator
Priority support to questions
Private one-on-one kickoff coaching session
15 - DAY 100% MONEY BACK GUARANTEE
If you aren't happy with the course, it's content, or it's ability to help you take and pass the civil engineering PE exam then we will refund you 100% of the money you paid (must request within 15-days). It's up to us to pass the test of your satisfaction.
Isaac Oakeson, PE
Isaac took and passed the civil FE exam in 2006. He graduated from the University of Utah in civil engineering in 2008 and afterward earned a masters in engineering from the University of Arkansas. He has been working as a professional engineering for a local utility ever since graduating. He passed the PE exam in October of 2012 and has wanted to help people reach that goal ever since.
Isaac is the creator of civilengineeringacademy.com, civilpereviewcourse.com, and civilfereviewcourse.com. He has helped thousands of students pass their exams through his YouTube channel, practice exams, and courses. His focus has been to help other civil engineers reach their potential of eventually getting the PE and now he wants to help you take this first step by passing the FE!
Mark Oakeson, PE, SE
Mark Oakeson, PE, SE has been around the engineering block. With his background in civil engineering, he has also found time to obtain his MBA and dive into the business side of projects. Managing multi-million dollar projects has been his forte for 20+ years.
Mark practices professionally for a heavy civil and bridge construction firm where he's involved in the design of everything from buildings to bridges. His vast experience and wealth of knowledge will help any engineer grasp the concepts needed to take and and pass the FE exam with flying colors because he practices the concepts on a daily basis. Whether it's geotech, structural engineering, project management, or any other civil topic, he's there to help you ace this.
Mark is also a graduate in civil engineering from the University of Utah, and in his rare spare time, earned his MBA from the University of Phoenix. Both Mark and Isaac are the proud parents of identical twins (Mark has boys and Isaac has girls – do the statistics on that!).
Exam results just came in. I am very pleased to say I passed (on the first try). A big thanks to the tremendous help and guidance I got from the course. I highly doubt I could have achieved this otherwise. Civil Engineering Academy gets a gold start rating from me!!!
I cannot begin to describe how happy I am right now. This was my third time taking the exam and Mark and Isaac really broke down what was important and what to practice. All the videos and practice problems made a world of difference. Thanks everyone in the group for answering questions!
My FE result published on July 8, 2020. I have passed the FE (Civil) Exam. Thanks, Civil Engineering Academy. Now I am planning to attend PE Civil (Water Resources and Environmental) Exam in October 2020. Thanks.
Thanks Civil Engineering Academy!
What can I print or download?
As part of the course we have lectures and video practice problems.  You can download the slides for all lectures and problems for all video practice problems in PDF format.  All other deliverable material is downloadable as well.  The videos themselves are NOT downloadable.
Can I get a refund?
Yes!  We have a 15-Day Money-Back Guarantee.  We'll fall off of our chairs if you ask because, well, we think the course is pretty awesome,  but simply request it at support@civilengineeringacademy.com and we'll get your money back to you.  No questions asked.
How long will it take me to study?
It really depends on where you are.  We recommend a good 3 months, but it depends where you are in school and how long you've been out it (if you are out).  You could rush through the course if you have a good 3 to 4 years of college under your belt and are still in school or it could take a while if you need a serious refresher.  It really depends, but please give yourself time.  We recommend 3 months of study time – probably a little less if you are still in school mode and things are fresh on your mind.
Can you guarantee that I'll pass?
While I wish I could guarantee that, at the end of the day, it's really up to you to prepare and PARTICIPATE.  You have to put in the hard work.  If you aren't doing that then, well, it's really on you.  We do guarantee, however, that you'll be better prepared with our than any course out there.  Participate, practice and you'll be prepared.  The three P's – how about that!  In addition, you have up to a FULL YEAR of access to the course, so if you do fail you should have plenty of time to keep access going to support you.
What exams do you get?
With the course, you'll receive two paper-based exams of 110 questions each.  You'll also receive access to a CBT exam simulator that is similar to the real exam.